Fleshy Donut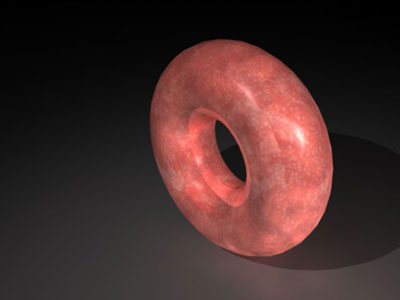 So having this Blog makes me realize how crazy my brain is. The reason I can't start a project is because I get distracted by other cool things and move on before I get anywhere. Like this Mac model, I want to make it, but now there is a new project at work that requires that I learn how to simulate water! I am really excited about it. So instead of working on my Mac I spent my free time researching fluid dynamics simulator plugins for Maya.
RealFlow
looks awsome and I am hopig to get the guys in charge of the project to buy me a license. I did however find time to post the SOD. It is a
fleschy
type shader that I used for a medical animation. The lights are kind of screwy in the preview image and it looks like there might be some seams but I promise this shader actually looks cool in the right circumstances. Speaking of medical animations, I went to the
Biodigital site
by accident yesterday and found this cool sample explaining how they accurately model internal organs using cut away views (it's pretty brilliant).
Hey Pat, when do I get to see your final project posted? I will post the wireframe of the IMac later today. Right now the model is pretty simple. It is a NURBS sphere trimed in half by a nurbs plane. Then I projected the circles on the top and used the trim tool again to make them holes. I am hoping to build some tutorials for the site in the future. I'm also planning on adding links to some free 3D software incase any non-3D folks want to get in on the fun!